'Jasper in Deadland' Vocal Selections will be released for digital download on August 4, 2015.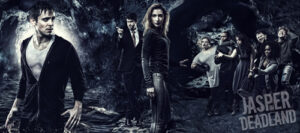 After an off-Broadway run in 2014 and a critically acclaimed production at Seattle's 5th Avenue Theater, songs from Jasper in Deadland will be released to the public for purchase in a digital vocal selections book, on August 4th, 2015. The selections will include hit songs like Stroke by Stoke, and Living Dead as well as never-before-released songs. Books ($34.99) and individual songs ($8.99) will be available for purchase at www.ryanscottoliver.com/store
Vocal Selections Include:
Stroke by Stroke
The Forgetting
Living Dead
Awful People
Hungry for Your Heart
Lifesong
The Killing
One More Day of Snow
Jasper in Deadland tells the story of 16-year-old Jasper, who journeys into the Afterlife to rescue his recently deceased best friend, Agnes.  But in this version of the hereafter – known as "Deadland,"  a hybrid of mythology, religion, and superstition – the dead forget Life…  And so, too, will Jasper, if he can't get past the seven circles of Deadland, fearsome Cerberus, heavenly Beatrix, mysterious Mr. Lethe, and ultimately himself.  Can Jasper bring his best friend back from the dead, or will he join the dead forever? Book by HUNTER FOSTER and RYAN SCOTT OLIVER, music and Lyrics by RYAN SCOTT OLIVER.