The RSO show joins Goodspeed Opera House's festival of new musicals IN JANUARY 2016, AND WILL BE PRESENTED IN CONCERT AT FEINSTEIN'S/54 BELOW ON MARCH 14.
RSO's southern Gothic thriller We Foxes will receive a developmental workshop at Goodspeed Opera House as part of their festival of new musicals.  It will again be directed by Leigh Silverman (who presently directed during this summer's reading at Playwrights Horizons), with dramaturgy by Matthew Schneider.  Rich Silverstein will music direct. The reading will be presented on the mainstage and open to the public.
The concert presentation on March 14 will be held at 7:00pm and 9:30pm.  Ticket buyers can receive 50% off tickets on Cyber Monday (Nov. 30).  CLICK HERE FOR TICKETS.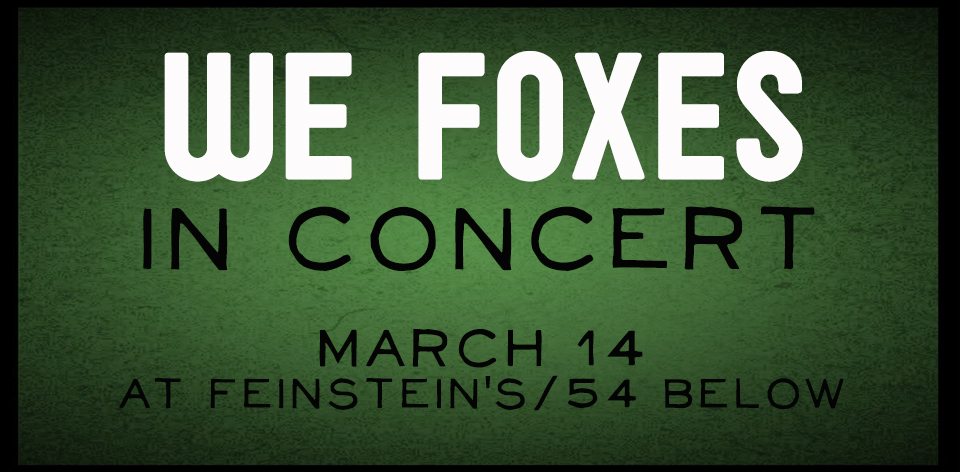 All casting will be announced soon.
We Foxes was commissioned by Broadway Across America and has been developed in readings or written in residence at the 5th Avenue in Seattle, Goodspeed, TheatreWorks, Silicon Valley's Writer's Retreat, Pace New Musicals (Pace University), CAP 21 and the Weston Playhouse.  The York Theatre Company presented the New York premiere Sept. 12, 2014, as part of its Developmental Reading Series, and the show is the winner of the New Horizons Award.
Goodspeed Opera House has produced over 250 musicals, including over 70 world premieres, and exported 20 productions to Broadway including Amazing Grace, 13, and Annie.  Goodspeed stands as the first regional theatre in America to earn two special Tony Awards, one in 1980 for outstanding contributions to the American musical and a second in 1995 for distinguished achievement for a regional theatre.
Goodspeed mounts both new and newly revived musicals each year on our main stage at the Opera House and on their second stage in Chester – a total of more than 400 performances during the April to December season attracting 130,000 patrons to the Connecticut River Valley. They stand at the forefront of producing and preserving the American musical, simultaneously reinventing the classics and inventing new ones. They attract well-known icons of the theatre world and foster emerging talent among composers, lyricists, and librettists. Each year, thousands of actors, directors, choreographers, and technicians aspire to come to Goodspeed to practice their craft. Among millions who know and love this art form – and those who appreciate its history and enduring appeal – Goodspeed is widely recognized as "The Home of the American Musical."
See more at: http://www.goodspeed.org/about/all-about-goodspeed#sthash.M3x2XTMz.dpuf
The developmental cast will feature college students from the Hart School and Boston Conservatory.
Listen to the #FoxesTracks here
We Foxes is a southern Gothic thriller set in small-town Missouri, 1945. It's the story of WILLA, a tough and unmannered orphan girl, and her adoption by the crafty Sheriff's wife, VESTA QUIMBY. When Willa discovers the dark secrets beneath the floorboards, a war cuts them apart and Willa must fight to survive. After all, Vesta Quimby is the most beloved and powerful woman in town … Yet she's less humanitarian socialite than she is Machiavellian sociopath… Can Willa discover her own salvation, deliver herself into courage, and sacrifice everything to escape Vesta? It is a story of intense human struggle, deliverance, and the great salvation found only through oneself.