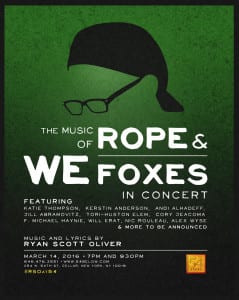 FEINSTEIN'S/54 BELOW, Broadway's Supper Club, presents the music of Ryan Scott Oliver in We Foxes and Rope on March 14, 2016. We Foxes and Rope represent two of three musicals in a trilogy of musical folk operas Oliver is writing about American desperation in war-time.
RSO is returning to 54 Below with a concert show featuring the music of his next two major works. Vocal powerhouse Katie Thompson (Giant) is joined by Jay Armstrong Johnson (On the Town, upcoming Quantico) Nic Rouleau (Book of Mormon), Alex Wyse (Spring Awakening), Kerstin Anderson (The Sound of Music), and F. Michael Haynie (Wicked, Dogfight) in presenting audiences a first-look at two works on the same stage. We Foxes is a musical tale of salvation in the face of murderous manipulation set in small town Missouri, 1945. Set against the Civil War, Rope explores the bonds of brotherhood when a blind boy, Shy, becomes tied to the gang-thief, Clay, and they embark on a  quest through war-torn America.
Jill Abramovitz (Cinderella), Andi Alhadeff (Jasper in Deadland), Will Erat (Catch Me If You Can), Victoria Huston-Elem (Addams Family), and Cory Jeacoma (Fan Girl) are also confirmed to perform with more to be announced.
Matthew J. Schneider will serve as the Director of the evening with Music Direction provided by Joshua Zecher-Ross who will play piano along with a five-piece folk band.
RSO at 54: We Foxes and Rope plays Feinstein's/54 Below (254 West 54th Street) on March 14, 2016, at 7pm and 9:30pm. There is a $30-$40 cover charge and $25 food and beverage minimum. Tickets and information are available at www.54Below.com.  Tickets on the day of performance after 4:00 are only available by calling (646) 476-3551.