New York, NY – Very Intense Productions presents Songs from THREE POINTS OF CONTACT, a new musical by Ryan Scott Oliver.  The evening will be presented at 54 Below (254 West 54th Street, NYC), on Monday, April 30 at 7:00pm and 9:30pm. Marshall Pailet (Baghdaddy) directs.
The cast will include Britney Coleman (Sunset Blvd.), Ben Fankhauser (Newsies), Katie Rose Clarke (Miss Saigon), Eric William Morris (Be More Chill), Blaine Krauss (Natasha, Pierre…), Emily Rogers (If/Then), and Pomme Koch (The Band's Visit), with Ian Fairlee, Mary Claire Miskell, David Park and Bethany Perkins in the ensemble.
Music Director Joshua Zecher-Ross leads a 7-piece band featuring Allison Seidner, Jeremy Yaddaw, Matt Hinkley, Joseph Wallace and Hiroko Taguchi.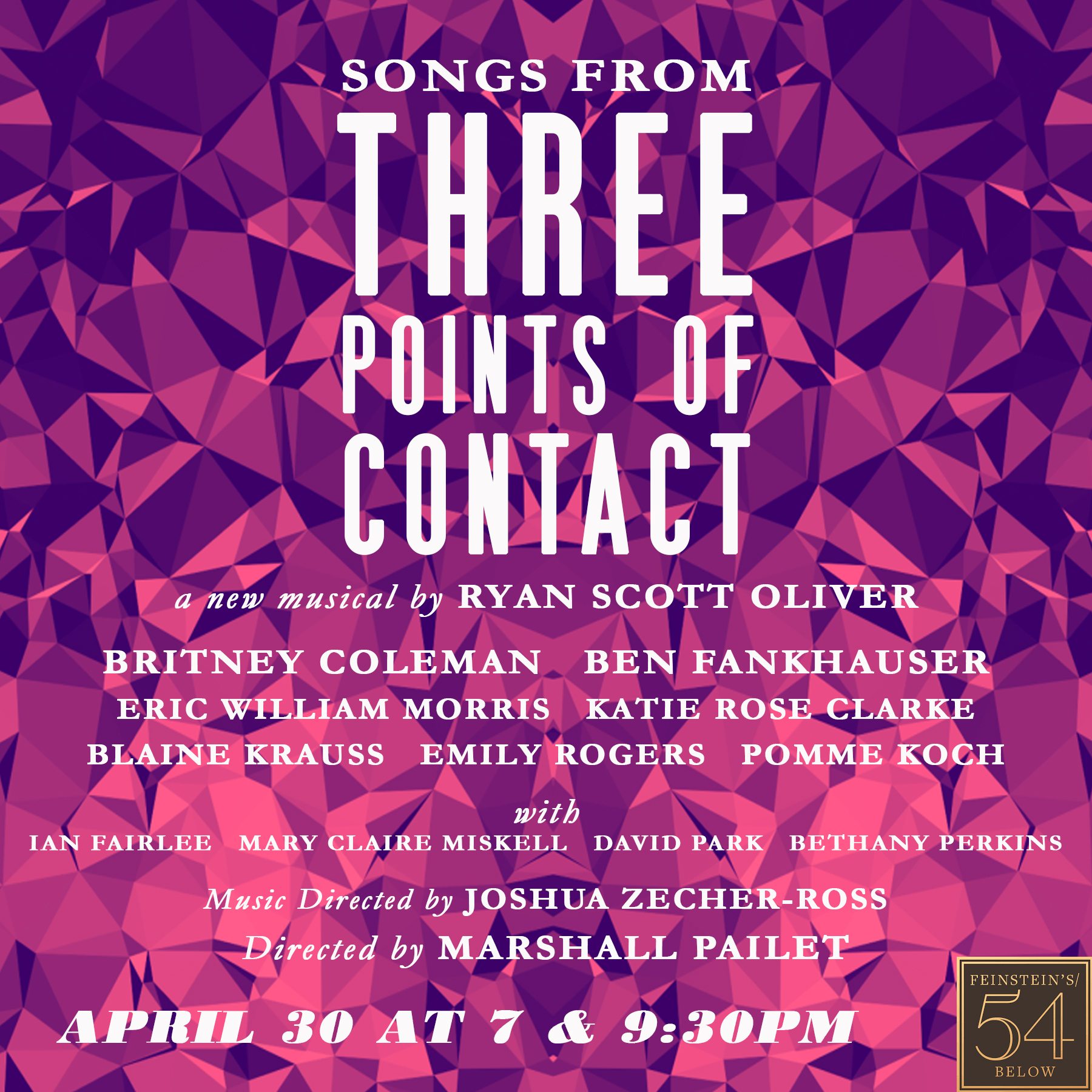 The story of Three Points of Contact revolves around newlyweds "Pooch" and Amy Harvey, who are proud of their progressive views on sex and marriage and anxious for their forthcoming child. When they miscarry and struggle to conceive again, their marriage (and their sex-life) strains to the brink; so much so that when Amy re-deploys for her second tour of Iraq and Pooch takes on an attractive pupil, they must confront the question:
"In a world where most marriages end in divorce …
Who wants to be like most marriages?"
Tickets are $30-45 and are now on sale and are available for purchase on the 54 Below Website, 54below.com.